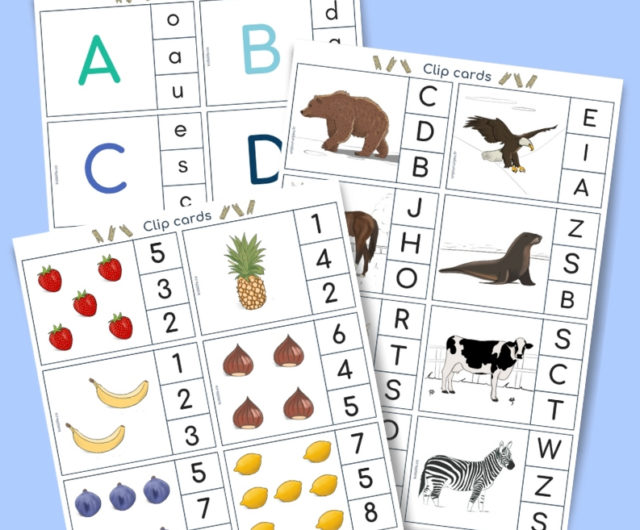 Clip cards are amazing, they allow kids to develop fine motor skills and provide them with lots of practice which help them to become more confident about what they learned.
You may use them for many subjects such as basic Mathematics, Grammar, vocabulary and so on … The great thing is that you can select cards that suit you kid's age.
For starter, here are 3 free printable clip cards packs to download. Those packs are made for Preschool level. If ever you are interested by Primary school levels, don't hesitate to let me know.
The first pack will teach them to count from 1 to 12 with fruits and vegetables. The second one will teach them to find the first letter of animal names.
The third pack will teach them to match uppercase and lowercase letters in both print and cursive scripts.
To use them you just have to print, laminate and cut the cards. Then you need clothes pegs and at least … one child.
Choose a theme and give the cards to your child. He must then select the right answer by placing the peg.
To download this activity, just click on the link below.
I hope these cards will be useful. If you have any ideas for more clip cards activities, don't hesitate to share !
See you soon with more activities.